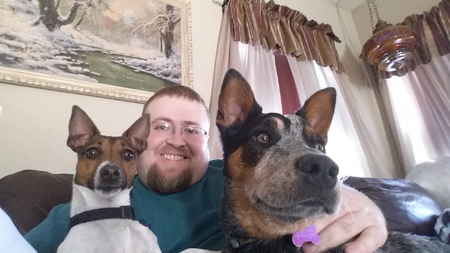 ABOUT
Matthew J. Olson published his first book in 2014, Shorts, and never stopped writing. He began writing short stories as a way to get attention to his novels. He found some success in these stories, so he published another collection in 2015, Dark Matter. He has now written a total of three collections of short stories and has published four novels. What will the future bring?
Matthew lives in Junction City, Kansas and works for ACEware Systems as a Technician since 2008. In 2010, he took over as the lead, and nearly solo, developer on Student Manager. He is also a contributor to the company's web product, ACEweb.
Matthew obtained a Bachelor's Degree in Computer Science from Kansas State University. He also has an Associate's Degree from Colby Community College.
Matthew has a wife, Gena, and three kids: Jynx, a Siamese; Milo, a Jack Russell Terrier; and Zailey, a Blue Heeler. In his spare time, Matthew enjoys collecting/dealing coins, playing games, hiking with his wife and dogs, golfing, fishing, and hunting pheasant and quail. He is currently the webmaster and show chair for the Manhattan Coin Club (manhattancoinclub.org) and was formerly vice-president (2011-2012) and president (2012-2013).
Another aspect of Matthew's life is presenting. Besides doing presentations for his work, he has also presented at SWFox, SQL Saturday, Flinthills.io, and Manhattan Coin Club.
Creativity is Matthew's passion. Words on a page or lines of code in a program/webpage is the same to him. He just hopes that other people enjoy his creations!