crash
Posted by admin | April 16, 2021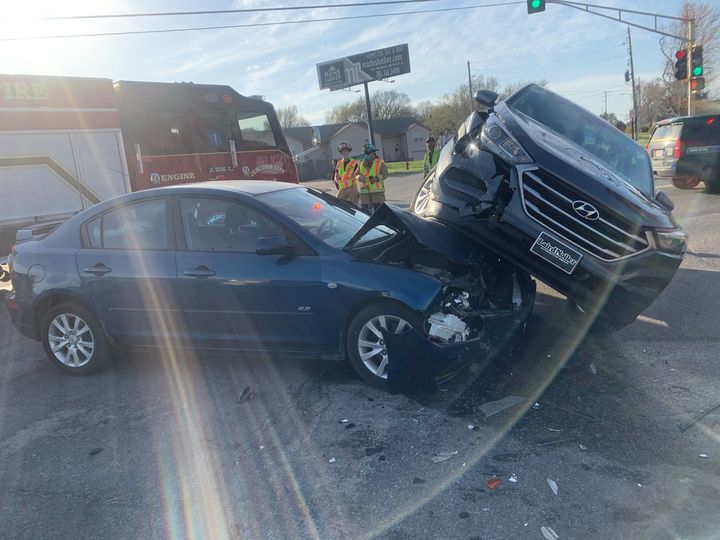 Mistake number one was that I filled up with gas. I didn't have to, but I was at a quarter of a tank and knew I'd be making a run to Manhattan the next Monday (this was a Friday). Manhattan gas prices are about a dime higher than in Junction City, so I filled up well in advance.
Mistake number two was assuming that everyone else would follow the laws of the road. I didn't have a care when I saw that green light and could go straight through the intersection.
Mistake number three which followed from mistake number two was that I didn't slow down. It was an intersection, and it was "rush hour". Plus, it was Friday, so people were in a hurry to start their weekend.
Mistake number four was not looking for idiots. Again, this kind of follows from mistake two. I just wasn't expecting someone to turn right in front of me when they didn't have the right-of-way.
Luckily, my car didn't push their SUV all the way over. If I didn't stop when I did, I'm sure it was going over.
Luckily, we both walked away. I did go to the ER as the airbag whacked my arm rather good. I had no broken bones. I did have a contusion from the seatbelt, a concussion, and was achy in general.
Speaking of concussion, I just started the first story for a new collection of short stories and I'm calling it Concussion. The cover will be a planet being hit by a moon and the resulting planet breaking up. (Yes, the cover is already done since I no longer start writing books without a cover as it is more important than the book.)
Not all concussions are bad, but the car is totaled. I already miss it. We're going to wait for finances to stabilize before replacing it. I'm looking forward to the replacement and the new book!