hiding out
Posted by admin | August 26, 2020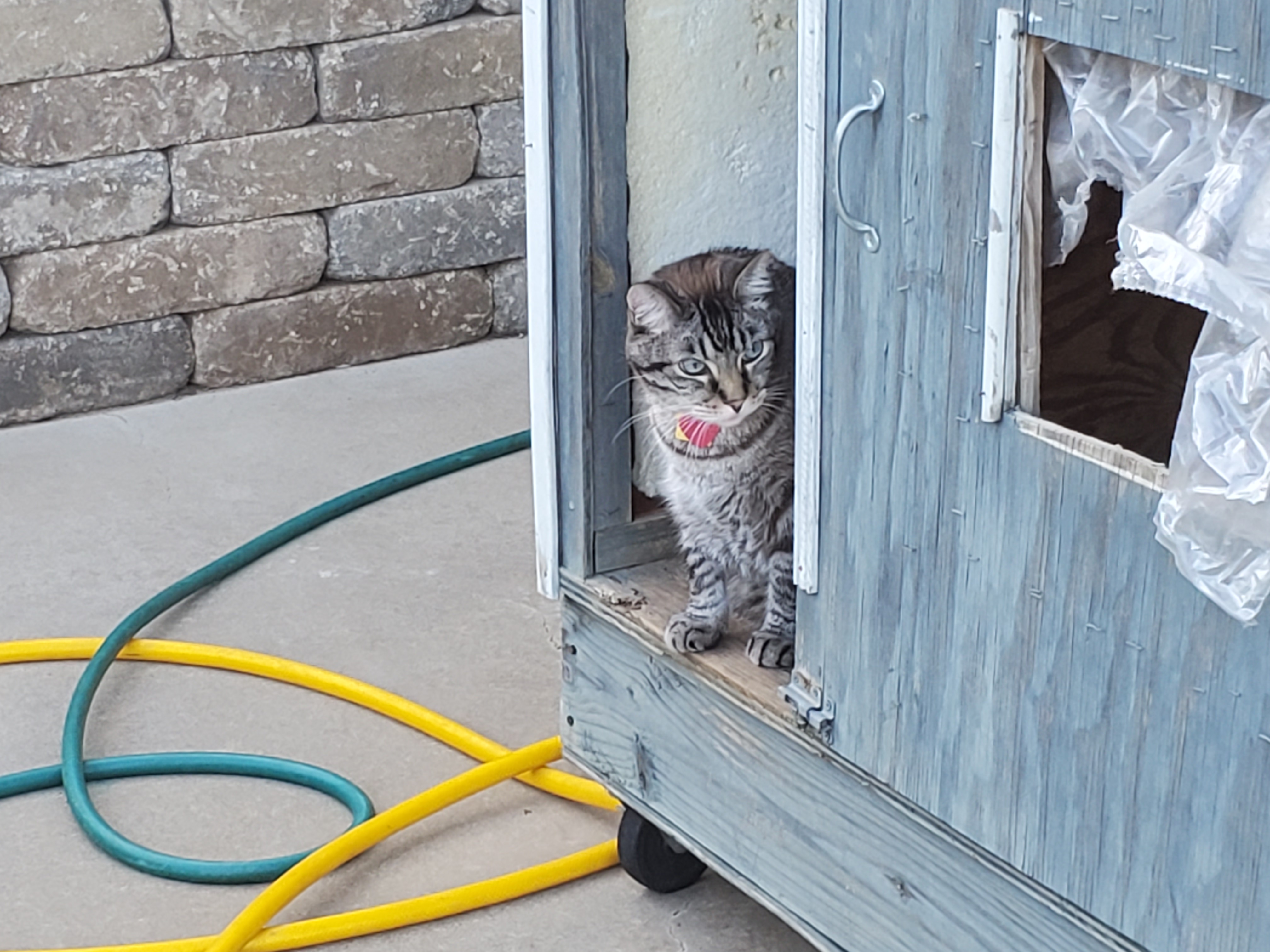 One cool evening, Jynx refused to come in. I couldn't coax him away from laying out on the patio after sunset. Even reminding him of the stray cat who has attacked him twice didn't sway him. I was in no mood to go get him, either. So, I left him out.
Not fifteen minutes later, the wind was howling as a thunderstorm moved in. With it came rain which fell in Nebraska and/or South Dakota but landing at our house. With the patio being on the north side of the house, the rain wasn't falling there except with the occasional down draft. I opened the patio door and couldn't see Jynx. Not that I was too concerned, I knew he would hide in the doghouse.
Finding the kitty was half the problem. Getting him to come out of his hiding place was another thing. He didn't want to leave with the storm moving in and he thought he was safe from the wind and rain in there (which he probably was). Since the front window of the doghouse was long broken out by Zailey (and she kept breaking my attempts to repair it), I pushed the cat over to the breezeway (yes the house was designed to have an entry partition to keep the elements out, though the broken window messes that up). I then had to crawl into the breezeway and pick up the cat. Really, if I had been able to keep Zailey out of the cat's face, I think it would have followed me at this point, but Jynx now feared the dogs were going to get him. Anyway, I got him and brought him inside as the storm wreaked havoc outside. (No damage at the Olson house, but I did have a worker get a limb to the windshield of their car.)
The pandemic continues to wreak havoc on my life. I won't list all my woes, but I want to stress that I am stressed due to this stressor. With my life in chaos, it is hard for me to focus and write. I need to unwind.
One thing that has caught my interest is disc golf. I used to do it as a kid and have only tried it once as an adult before this month. I've decided to give it another go. A park near my house has a half mile long, 9-hole course. It is challenging and the terrain is uneven, giving me a great workout.
Another thing coming up is various hunting seasons. I'm already planning some group outings and will probably do solo outings as well. Besides the exercise, being out with nature and going head to head with a group of animals is a great distraction.
No matter how we do it, Jynx and I find that our stress is eased when we hide away.